Disclosure: we have placed some referral links/banners in the post. We do get rewarded with a discount on our subscription if you sign up based on a referral from us, but we also really do use and love CoSchedule. We love it so much, here's a link without any referral code on it: coschedule.com.
Last year we posted a blog titled, Ready to Rock Your Editorial Calendar? Try CoSchedule! In the post, Stacy shared how CoSchedule can help your content marketing efforts. She highlighted some of the cool features they offer. We're going to take a stroll down memory lane and highlight the features she mentioned and then dive into one of their newest.
Content Marketing Doesn't Have to be Difficult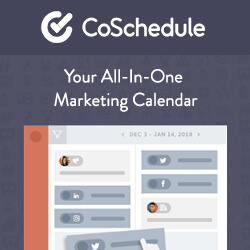 It can sometimes feel overwhelming keeping up with the different things you need to do to stay on top of your content marketing efforts. As a digital marketer, I know just how you feel. Luckily, in the age of technology, there are many different tools available to help organize your strategy in one place. CoSchedule is the all-in-one solution to help you stay on top of your inbound marketing process. They've got you covered in all areas.
Content Marketing
Social Media Marketing
Marketing Projects
Blog Management
CoSchedule simplifies your process and allows you to manage assignments and help keep your team on the same page.
Favorite CoSchedule Features from Stacy's Post
As previously mentioned, Stacy's post shared some really cool things you can do using CoSchedule to help your content marketing efforts. If you missed her post last year, check it out here. Here are some of the highlights.
Create and manage content marketing assignments
Schedule a post in CoSchedule and it feeds to WordPres where you can

Analyze your headline score
Change publication status
Add tasks that you can tie to the blog post
Select categories
Change authors
Add tasks & comments
Schedule social media promotion for the coming month and beyond –> And if you have multiple social profiles you want to post your blog to, set up templates and most of the work will be done in just a click!
Hope you decided to try out CoSchedule based on Stacy's post. If not, maybe the following new feature will entice you!
More CoSchedule Features We Love
Just when you thought CoSchedule couldn't get any better than what we've already shared they went and rolled out the ReQueue feature last year. So…naturally we want to share the cool stuff we found!
ReQueue
This feature is awesome! As a small to mid-sized business, it can be easy to let your social media postings fall to the wayside especially when you don't have time to create fresh content. If you do get the chance to write some new posts, it takes time to schedule them out so you may only share them up to three times.
Don't let your content go to waste! ReQueue will take the messages you add to your ReQueue section and automatically schedule social posts for you. It looks for gaps where you don't have anything being shared and fills those gaps. It intelligently fills your calendar with social posts. If you get a chance to finally catch up on your blog posts, it will scale back what it's auto filling to make room for your new posts. How cool is that!
This is a get feature I think most small to mid-sized businesses should take advantage of to help with their content marketing strategy.
One of My Favorite Features – Headline Analyzer
There are so many great features that come with CoSchedule, but one of my favorites is the Headline Analyzer. If you caught my ToolTip post a couple of weeks ago,#ToolTip: How to Boost Engagement with CoSchedule's Headline Analyzer, you got to see how easy it is to use the Headline Analyzer within WordPress. This feature is great because it gives you an idea of what your blog post title is saying to others. Will it create engagement? Or will they pass it by because it sounds boring? The headline you choose for your writings is vital to whether or not it gets read.
We are saturated with blog posts from every direction on just about every social media platform. So, you must find a way to make your post pop and entice your viewers. You don't have a lot of time to make that first impression so make it count.
It's difficult keeping everyting together and everyone on the same page. Make it easy on your team and check out CoSchedule. It's integration with WordPress, Twitter, Facebook, LinkedIn, Buffer, Google+ Pages, Evernote, Google Docs, and more makes it so easy to manage everything.  Check out CoSchedule today!
Check out CoSchedule's overview video.

CoSchedule from Garrett Moon on Vimeo.